It's not just to spice up the look of your undergarments! Lace, the fabric of the bold!
Hey Loves,
This season and into summer, spice up your life with a little bit of lace. The great thing about it is you can wear it in moderation or in excess if you'd like. Buy a dress with lace detail, wear lacewith a solid layer underneath, wear a garment with lace-trim...lace up your outfits however much you want lol. Here are a few lace pieces that I've been scoping out on my never-ending cyber-window shopping journeys. Click for the links below.
Lace Tunic Dresses
Simply Be
Asos Curve Body With Lace Back
Asos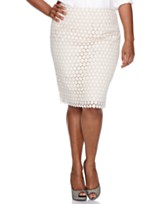 Charter Club Lace Pencil Skirt
Macy's
Arsenic & Lace Chiffon Button Blouse
Fashion to Figure
Is it just me or did Simply Be step up their clothing game times 100?? I'll be browsing there a lot more often than I usually do.
*I'll have a super HOTTT OOTD featuring this spring/summer essential tomorrow.*
Stay Bold & Stay Beautiful,
Moji